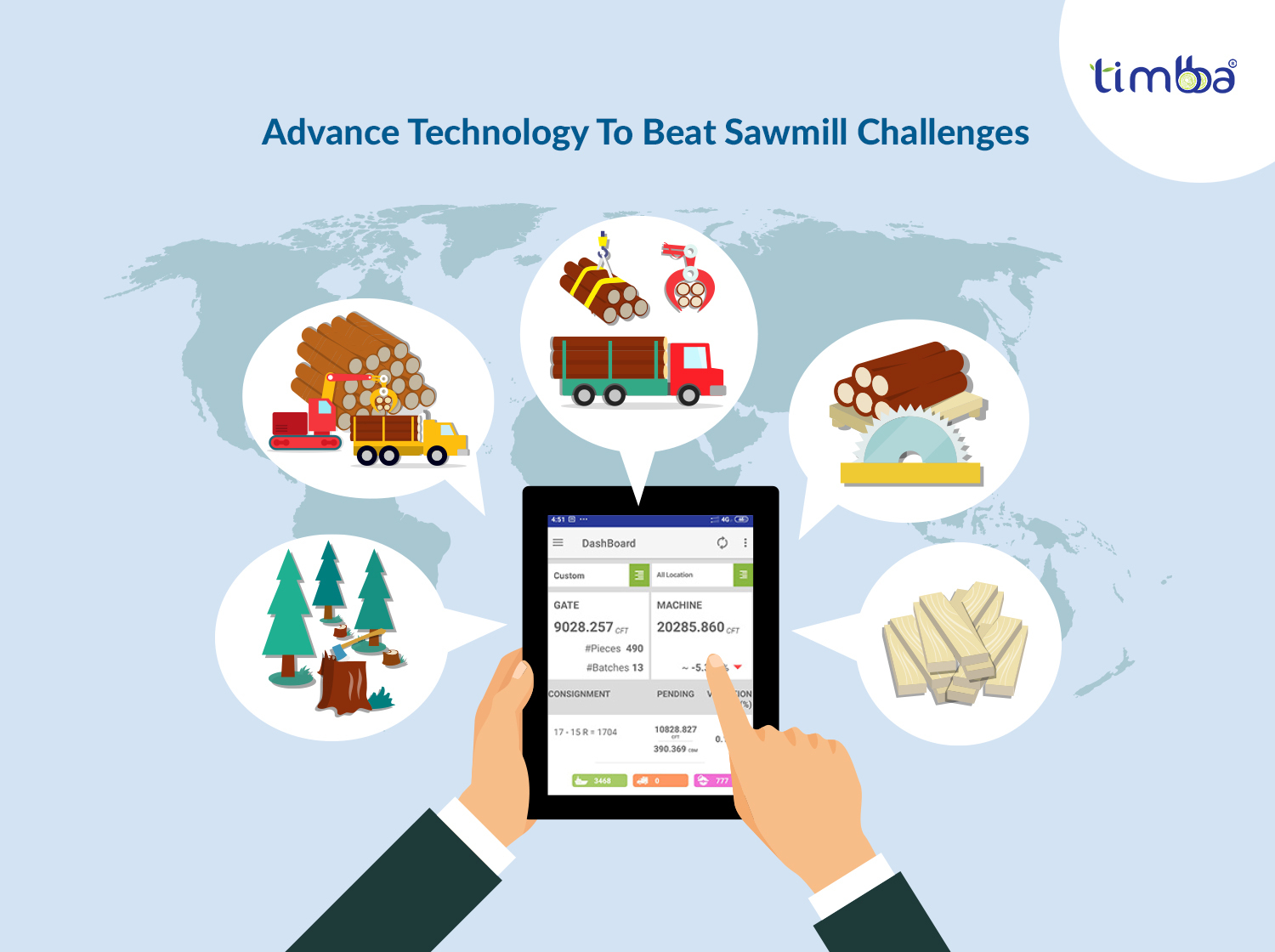 Timber sawmills in India facing several challenges in terms of technology & modernization. One of the biggest challenges is to undergo a transformation in various ways which are effective and profitable. Apart from them few sawmills facing challenges on the field like – Lack of adaptability, Improper accounting, Unawareness among staff. However, the Adaptation & Modernization of production processes is transformative and necessary for the Sawmill to continue and grow in times of high demand and competitiveness. Here are few challenges we found where most of the sawmills are facing and why is it so important to overcome them.
1. Adaptability
We are continuously working in this sector for the last few years but we still get surprised about some points especially related to the mindset which is interesting since the sawmill still see the same processes used in a very traditional way as they were used decades ago. If we talked about the adaptation of technology to mill owners they simply have generic answers we will implement in the future or we can work like this forever but they didn't understand "there is no other way to overcome". While the world is changing at a high speed, it's the role of mill owners and their teams to find solutions that will improve the workload, increasing demand while still aiming for profitability and efficiency. It's the decision-makers main task to look for suitable solutions to make a difference and focus on what's best for a company. And simply the solution is "Timbba" that make sawmills daily operations easier, making staff jobs easier, more accurate, efficient, and safe since it's a highly technological solution that transforms the sawmill.
2. Efficiency
Wrong consignment? Measurement errors? Certainly, the common problems in the sawmill are not the fault of there staff, but they can be due to a number of factors, including the lack of planning, lack of awareness, or old practices that make the work inefficient. For example Long queues of the loaded trucks are waiting outside sawmills to unload it. The unloading process inside mill should be fast as transport company has other shift and staff people doesn't have time to verify each log as they received the right consignment or not. In this situation Timbba make human works simpler and effective to overcome workload and give transparency in the whole process. As per our survey Timbba inbuilt scanner hardly takes 10-12 minutes to scan the whole truck which decrease the time and smooth the process both for saw miller and transporter. So, human conjunction with the new technology is very important for better productivity and reducing the common problems during the process.
3. Transformation
Areas of Kutch, Gujarat covered 70% timber industry of India and most of the timber sawmills are still using traditional methods in accounting, measuring & stocking. Manual process is time-taking and only slowing down the core work that directly affects profitability. Here are a few of these problems facing by sawmills:
• Having to count large amounts of logs in little time in the gate • Verifying the correct material • Incorrect data insertion in books, in excel sheet or loss of data • Wrong results • Difficult to check all steps bringing losses throughout the operation • Keeping stock up to date • Sales material records
So, adopting a digital solution is the only way to overcome these issues, while discussing such challenges with mill owners we decided to bring a solution – Timbba. A multi-level solution that automates the whole sawmills work. More importantly to overcome difficulties in a creative, digital and better way, Timbba gives various benefits which are:
• Fast measurements, results which improve productivity • Digital data • Organized inventories • Transparency • Reduction of human error • Easing the supply chain processes • Complete reports
In past few years Timbba helps small, medium & large sawmills in their daily operations making their jobs much easier, more accurate, efficient and safe, since it's a highly technological solution and affordable, enabling smaller companies to participate on the digital transformation in the timber industry.
As discussed above in all 3 factors the main conclusion is that technology is the only key to overcome those problems in this sector that is suitable for production, quality and quantity rise to a new level and the demand for materials becomes more stable and profitable.