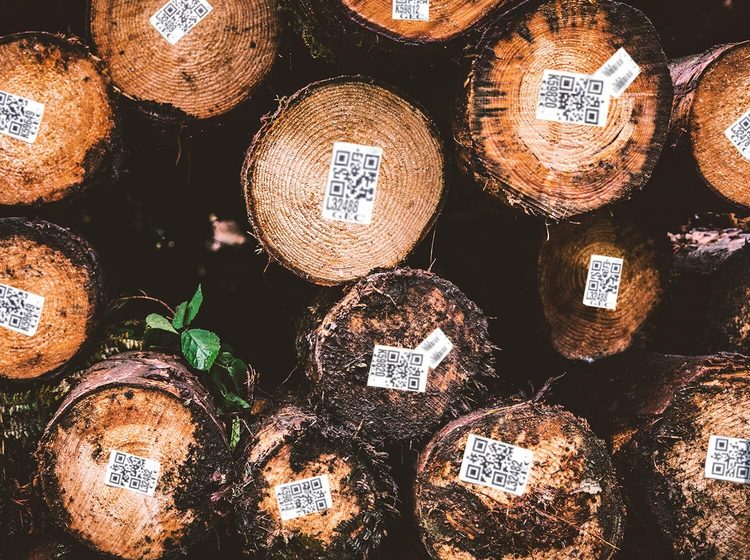 India isn't just a large producer of tropical logs on the whole world but in addition, it's the biggest buyer of wood products. India imports its timber majorly from Kandla, Mundra, Nhava Sheva, Chennai, Kolkata, Tuticorin and Mangalore Ports in both bulk and container vessels coming from Malaysia, China, New Zealand, Indonesia, Germany, South America, Far East, Papa New Guinea, Solomon Islands, and Africa.
Nearly 2.5 lakh to three lakh cubic meter (CBM) timber unloaded from eight ships at Deendayal Port Trust (DPT), Kandla and Mundra Port has piled up in eight warehouses over the last two months. Kandla port alone accounts for 70% of India's timber import and processed wood is sold to various industries including building construction and furniture makers.
On parallelly in transporting of woods/logs from various regions of the world via ports in India to sawmills is never been an easy process. Although, there are many loopholes in operation that result, Fraud in consignment, Leakage in material, and Altered Data. So, Ultimately Saw millers have faced the outcomes and bear the losses. After doing a lot of research on these many problems faced by Sawmillers we've created a solution named "Timbba®".
How Timbba® Helping Sawmill Companies in Enhancing their Work Efficiency
Timbba is a timber measurement app and also a digital workflow system that works on mobile phones that help sawmills to detect leakage & fraud in a consignment. It's innovative features help the user in many ways.
1. To scan the barcode faster in the Gate-In process.
3. Digitally feeding of data (Measurements, Grade, Barcode No.)
4. Share real-time reports of Gate-In, Sawmill scanner, Stock, Loading.
5. Monitoring of all sawmill work on your mobile phone.
6. Managing teams remotely.
7. Provide data security to users by cloud-based technology With Timbba, Sawmill owners & managers can monitor the work on various stages just via a click on their Smartphones. Many Sawmillers are now using Timbba and appreciating the role is plays in fraud prevention, monitoring & overall management. Timbba has completely removed the people's dependence on managing sawmill operations and also helping the timber industry in transforming digitally.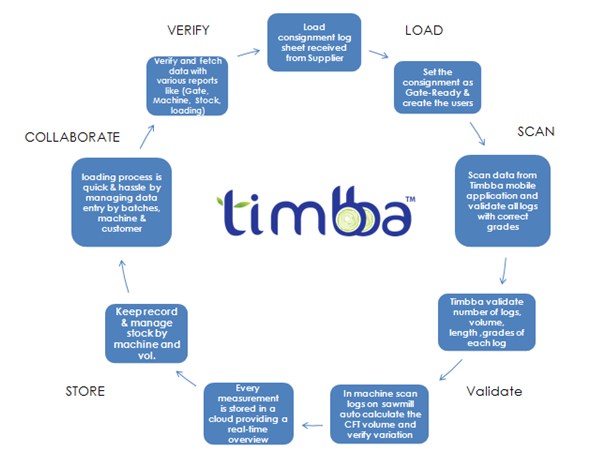 Step By Step Process For Log Scanning by Timbba®
Timbba works for those who work in the Timber Industry generally in sawmilling of logs. Its an enhanced solution for sawmills to detect logs, digital measurement & verified reports. To make it easier for people to start using Timbba we have to describe the workflow step by step.
1. Load consignment log sheet received from the Supplier.
2. Set consignment as gate scan ready and create users for Timbba mobile app.
3. The user will scan the barcodes/QR codes with the help of  Timbba inbuilt scanner on a mobile device.
4. Every measurement is stored in a cloud providing a real-time overview of measurements.
5. In machine scan logs on the sawmill, auto calculates the CFT volume and verify variation.
6. Timbba validates the number of logs, volume, length, grades of each log. Users can filter the data and check for any leakage or fraud.
7. Completion of sawing work user can keep record & manage stock by machine and volume.
8. Once sawn wood is ready to Timbba makes loading process quick & hassle by managing data entry by batches, by machine, by customer.
9. Timbba verifies and fetches data with various reports of (Gate, Machine, Stock, loading).